It's amazing what you find when you look! Here's a couple of DIY projects for the summer holidays. I've used a "studiolet" and will make one next time I need to make some really high quality sound recording. The second I came across while looking for budget "steadicam" gear. I guess the videos and testimonials speak for themselves and I'm determined to make one.
Sound recording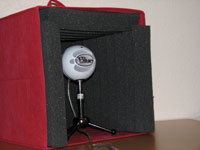 Few of us can spare the space or money to build a home recording studio. I've sung the praises of my Blue Snowball microphone
elsewhere
but sensitivity in a microphone can also mean they pick up extraneous noises too. I'm not sure who first realised that putting the
microphone
into an acoustically isolated space would work but there are a range of
designs for these online
. At my suggestion a podcasting friend of mine made one of these "studiolets" up although he made his box from MDF since he had no need to transport his. It works really well.
Image stabilizing
Amazed at the quality of the award-winning
Splitscreen: A Love Story
filmed entirely on a Nokia N8 I watched the "making of" videos on vimeo too and could not fail to notice the director (JW Griffiths) using was using a steadicam. I had always assumed that one of these was way out of my price bracket. So I had a look and yes - even the very cheapest ones like his (designed for iPhones) were £150 or so. But up pops Johnny Chung Lee with his
$14 camera stabilizer
I'm definitely planning to make one of these during the summer. The video embedded below was the most impressive of the collection on his site