Ever since working as a freelance I've always tried to find free software to use.
At that time I was working with other, often excellent, film makers in schools; frequently under the
Creative Partnerships
umbrella. They usually came from the world of film and brought expensive equipment and complicated software into the classroom so that when the project was over students and teachers in primary schools had a great experience to draw upon, but a small legacy of skills they could actually practise – not having the gear the professionals had deemed necessary.
As a long-term primary teacher rather than a film maker, it was clear to me that in fact their legacy was often actually a collection of excuses for not making movies in the classroom:


1.
We haven't got the equipment and can't afford it
2.
It takes too long and is too complicated
3.
We haven't got the software, can't afford it and don't have Apple machines
I set out to demystify the process and tried to make it something familiar and comfortable.
In answer to the first question I began by using whatever equipment they had – usually still cameras and Digital Blue Movie cameras. To the second, I began exploring and devising quick, simple and classroom-friendly ways of making movies.
To the third I decided to use software that operated in Windows and was free. I'll admit the latter was partly to do with my own lack of funds and expertise. But several other advantages quickly became clear. Using free stuff exclusively meant I had to find ways round the limitations, giving me a collection of tips I could share – an expertise in being inexpert. Using a basic, free kit meant that the expense 'defence' was dispensed with. And crucially, students could go home and become movie makers with software they often already had, or could download for nothing. My basic kit then (and now) consisted of Windows Movie Maker, PhotoStory 3 and Audacity. My searches for other freebies, however, led me into a slightly geeky obsession with finding new, free media software and applications. You'll find some of these in a slideshow on my links page. More recently, of course Web 2.0 applications.
I've recently downloaded and begun playing with three new bits of software. This is far from being a proper review – I haven't used any of them enough to find the advantages and disadvantages or to offer insights into their finer points. I'm really just flagging up three bits of potentially useful kit you may not have come across.
The first is a free utility program which converts video called (curiously enough)
Free Video Converter
. Despite its rather tacky 'wooden' desktop it does a good job converting most common video formats (including mobile phone formats) to other common video formats. Software like this is especially useful if you have a mixed bag of cameras in your school or you are encouraging students to bring their own cameras for use in a project as I did recently. You might also consider: the online converter
Zamzar
and also the downloads
Any Video Converter
and Miro converter. I've used them and they all work well.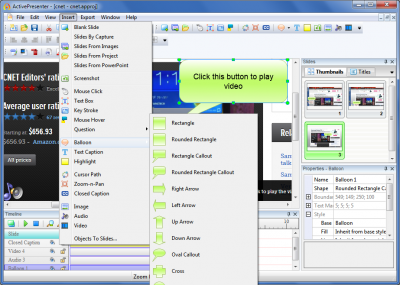 The second is
Active Presenter
screen capture/screencast software that seems to plan on ousting Camtasia Studio. The big advantage is that there's a free version which looks pretty much like the paid-for versions - except that it does not export as flv. or as a Powerpoint. I've recommended the open-source Camstudio on this blog before. It's compact, really easy for students to use and generally gives good results. I suspect I'll carry on using it with students for just these reasons. What Active presenter offers is a bigger range of functions and some rather slick auto-functions including a much better pan effect than Camstudio. I'm planning to use it to create a suite of tutorials for my new post next year. If you're thinking about
flipping your classroom
this could well prove useful (so long as you hang on to the floor).
This last is a bit cheeky.
Blender
is just a tad more than just another bit of free software. It's an open-source behemoth that has been around for nearly 10 years. In
Wikipedia's words
:
Blender is a free and open-source 3D computer graphics software product used for creating animated films, visual effects, interactive 3D applications or video games. Blender's features include 3D modeling, UV unwrapping, texturing, rigging and skinning, fluid and smoke simulation, particle simulation, animating, rendering, video editing and compositing. It also features a built-in game engine.
There is an entire community of users worldwide, and people make complete animated movies with it. There are zillions of tutorials on Youtube. Now I don't even know what UV unwrapping
is
but I do know an amazing learning opportunity when I see one. I just want to be able to create some basic 3D images with students – enough for them to dip their toes in the water. Who knows, somewhere there may be the next Nick Park looking for a way to tell 3D animated stories. Certainly our former pupil Josh Macrow has continued to be excited by animation - judging by his
YouTube channel
. This was filmed mainly in our ICT suite during lunchtimes and with absolutely
no
assistance from me!
Please leave me a comment if you have ever used Blender in school – especially with under-14s. I'll finish the post with a copy of one of Blender's flagship movies: the rather compellingly strange Elephants Dream. Sharp-eyed viewrs will notice a range of additional features on this video - they were added with
embedplus
. The ability to add time markers to YouTube videos could be quite handy in the classroom.